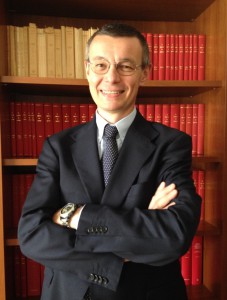 Passionate Lawyer, Arbitrator and Mediator, Gianluca was born in Milan on November 15, 1964. After his law Degree at the University of Milan (J.D., Jurisprudence), he became member of Studio Legale Pojaghi in 1992. He is ever since registered to the Milan Bar.
In almost 30 years of professional activity, Gianluca has developed an extensive experience in the music business, combined with a genuine interest for all humanistic aspects of culture and creativity.
In 2021 he was appointed Member of the Board of Directors of the collective management organization of phonographic producers SCF S.r.l..
Member of the Association Littéraire et Artistique internationale (ALAI), of the International Association of Lawyers (UIA), of the European Center of Arbitration and Mediation (CEAM) and of the National Union of Lawyers for Mediation (UNAM).
Author of several articles and studies (available here), he frequently participates as speaker to seminars and events of continuing education in his subject matters of interest, among which the Master in Performing Arts Management at the Fondazione Accademia Teatro alla Scala, in Italian and English.
From 2008 to 2019 he has been President of the Italian contemporary music association RepertorioZero, an Italian research center on contemporary music (electric, computerized, concrete and amplified instruments) and producer of musical events around Europe.
He mainly deals with corporate and commercial matters, including public tenders, international transactions, intellectual and industrial property rights, personal and personality rights, including privacy, and their digital implications.
He speaks and works indifferently in Italian, English and French.