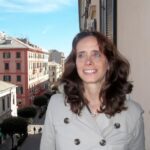 Carla was born in Savona on October 29, 1970. After her law degree with honors at the University of Savona (J.D, Jurisprudence), she began practicing law in 1998 and is registered to the Savona Bar.
Since 2012 she is Mediator at the Mediation Body of the Savona Bar. Since 2017 she is member of the Italian Chapter of the Centre Européen d'Arbitrage et de Médiation, President of the Liguria Region. Since 2018 she is qualified to act as Manager for the composition of the indebtedness crisis.
From 2006 to 2007 she was member of the Board of Distillerie F.lli Branca S.r.l. She is founding member and from 2013 to 2017 she was President of the A.D.G.I. (Association of Italian female lawyers), chapter of Savona.
She mainly deals with banking law, bankruptcy law and forced executions.
She also speaks and works in French and English.